Blog, Tony's Recommendations
This week we begin the holiday season with turkey, talk around the family table, football games, and perhaps a little reflection on our blessings. So, in keeping with the theme of the season, I wanted to share something I've been working on for the last couple of months.
As a Type A person, I set high expectations for myself. I also tend to have pretty high expectations for those around me. Does this sound familiar? As a self-made business person, I'll bet it does. This is one of the qualities that propel us to success and achievement.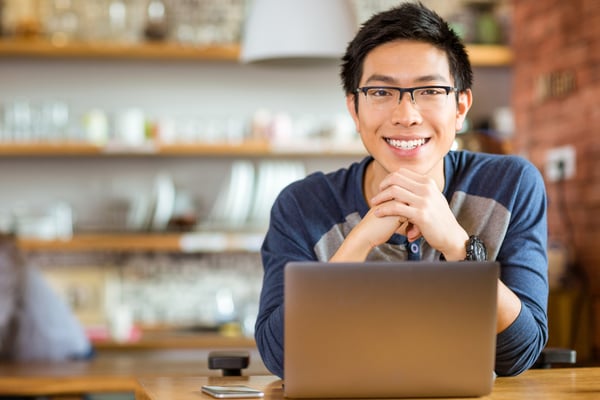 The problem with high expectations is they can lead to high levels of frustration. Many things do not go my way or as well as I'd like. The stress, and even anger this creates, is damaging to my focus, performance, and possibly relationships. If this sounds familiar to you read on.
Turning frustration to gratitude
As I reflected on this during my personal quarterly planning time, I wondered if I could put frustration in perspective and turn it from destructive to creative. I decided to think about why I am grateful for the thing, situation, or person giving rise to my frustration at the moment I become aware of the feeling. I committed to trying this for 30 days.
The result has been amazing!
I've observed when I become frustrated or angry, and immediately begin to remind myself of the blessings this person or situation has brought to my life or business. When I do this, the negative energy disappears. Poof! It's gone.
Another thing I've noticed is my perspective on the "problem" instantly changes. This allows me to deal with the person or situation in an entirely different way.
The biggest difference, though, has not been in how I act, but how I feel. I feel much more relaxed. This, in turn, helps me make decisions much more likely to have a constructive, positive result.
Gratitude as a business strategy
In his book, The Gratitude Principle, Strategic Coach, founder, and thinker Dan Sullivan talks about the power of gratitude.
Dan will freely admit that he didn't invent this idea—he discovered it from observing others. The others were highly successful entrepreneurs in his coaching program. He saw the power in those people who were consistently grateful.
As someone spending $10,000 a year to study with Dan I thought I should give it a try.
As a busy person, someone who is constantly moving and in a hurry (sound familiar?) I realized that I may have forgotten to express my feelings to lots of people I encounter. When I first made a list of people and things I was grateful for I felt compelled to share it with others.
I decided to start thanking people for the blessing they were in my life. Friends, family, employees, customers, and just everyday folks in my life. I am definitely not a touchy-feely kind of person, so this was definitely outside my comfort zone!
But the results at home were incredible, and the office became a more fun place to be. So, I started thanking customers. This got really interesting.
See, if you're going to go see someone, and your only agenda is expressing gratitude, you've got to be prepared! You have to actually think about why you're grateful for them. This is not exactly easy, but as I soon found out, it's extremely powerful!
I set up lunches with a bunch of my best customers. Some were folks I'd done business with for a long time, others were relatively new to our agency. At the lunch I apologized for not saying thank you before. This is pretty humbling. Then I told them what they meant to me or to my business. Every situation is obviously unique.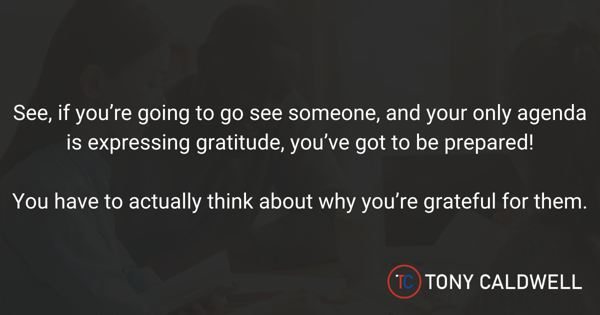 For a pretty non-emotional guy, I found myself pretty moved quite frequently. Another amazing thing was how emotional some of my customers became! You know what? They were actually thankful for me in many cases! What an incredible affirmation.
If a business is based on relationships, and insurance certainly is, then this could only deepen the relationship and improve the business. And it did, in ways I could not have anticipated or even believed beforehand.
So, I'd like to say thank you, to you for reading this blog, which has given me an opportunity to express my thoughts on the common issues we face in our business lives. That in and of itself is very rewarding. But it also has served to remind me of fundamentals that I need to refocus on in my own business. Powerful stuff.
If you decide to give this a try, please report back and tell me how it goes. I'd be grateful!
Thanksgiving thoughts
Thanksgiving is a time to be grateful. It is a day in which most of us are full of good feelings, happy attitudes, and mental, spiritual, and emotional relaxation. It is a day for deepening relationships, as well. What if we turned every day, particularly workdays, into days of thanksgiving? What would the results be? After thirty days of this approach, I can tell you each day is pretty special, at least for me.
This Thanksgiving, whenever you feel frustrated, angry, or disappointed simply take a moment to reflect on why or how this person or situation has been a blessing. Watch the stress disappear and how your ability to act constructively skyrockets. Thank you for reading, and enjoy Thanksgiving!
3 minute read
Recent Posts
Overcoming Insurance Industry Challenges
Those of us who own insurance agencies are no strangers to industry challenges. The COVID-19 pandemic brought several of the latest issues racing to the forefront as individuals ...