Video, Insurance Agency Management
The COVID-19 pandemic has driven everybody home. Much of the country has turned into a remote workforce, and we are all learning to be productive in our new remote working situations.
Insurance agency owners and managers are learning as fast as we can about how to manage those people that we don't see face to face every day anymore. Let's talk about managing remote workers in the insurance business.
Remote work is a great perk
About 20 years ago, I put on my bucket list the ability to live and work wherever I wanted to. Five years ago, we even bought a telepresence robot for our agency, so I could literally zoom around the office and talk to people in their offices. It made everyone laugh at us... at the time.
What was funny then is now reality. In fact, we use that little robot all the time - it has become a team member! And we're increasingly using video conferencing tools like Slack, Microsoft Teams, and Zoom to talk to people in real time, wherever they're located. This opens up enormous possibilities: with instant messages, virtual meetings and a good remote team, you can literally live and work wherever you want to.
Even better, you can literally also hire the very best employees, no matter where they choose to live. We actually have employees now in two different time zones, five different cities and three different states.
Tips for managing remote employees
Goal-based management
Like I just told you, I am now managing employees in two different time zones, five different cities and three different states. And it's working great! The trick is to focus on managing them based on what they actually accomplished not by whether they show up or not. Forget about the number of hours in the office, and start worrying about deals closed, number of upsells, customer satisfaction, and the metrics that really matter.
A good agency management system (AMS) can give you visibility and help you keep track of many of these aspects. Let's elaborate some more.
KPIs are king
When it comes to managing by objectives, key performance indicators (KPIs) are really important. I suggest that you take some time as you go into 2021 to think what are the 2-5 things that you want every employee by position to be able to demonstrate in order for you to know they're done a great job. If you have that down, then you have the essence of what you need to manage that person.
Flexible schedules
While a brick-and-mortar agency used to be open nine to five, the truth is that people are doing business 24/7, because often your clients are serving as teachers at home, as well as employees for their businesses, and so they're doing things at odd times. So why not let your employees do that too? I mean, after all, 8 hours of work are the same whether they are in the day or in the night - what gets done is what matters. So if you're managing by KPI, you can do that really easily.
When we first went virtual in March of 2020, I was hopeful that it was going to work really well. And so far it has. This has been true for almost all businesses:
Surveys report about a 25% increase in productivity over the last six months as people have worked from home.
Technology instead of office space
In the case of our office, I think we're going to be up for a challenge: Do we reduce the size of our office? Do we focus more on investing our money in technology to assist our employees working from wherever they want to?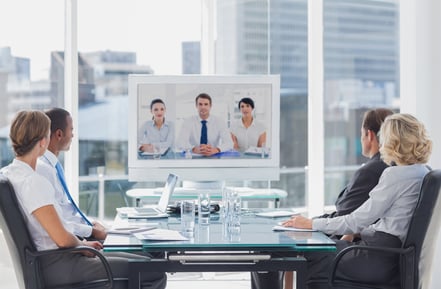 You might want to think about this too. Instead of desks, projectors, and sofas you might want to look into investing in a virtual private network, a better AMS, or other technologies to help you work better in this new world.
Build team culture
People have asked me: "How do you build a culture and a sense of teamwork when everybody can't see each other face to face?" I think the answer to that is simple: culture isn't based on backslapping - culture is based on values.
That said, it is important to have meetings on a regular basis where everybody does get to see each other and you get to reinforce a sense of teamwork and culture. We've found that weekly meetings on Zoom or Teams are great for that purpose. These are some of our touch points:
We've actually gone from having company-wide meetings every couple of months to having company-wide meetings every week.
Department meetings are held every week.

Sometimes departments have stand up meetings once a day, that lets everybody see each other lets everybody work, you know, face to face.
We have found this really fosters that teamwork environment: everyone can participate when and where they want to. There's a million ways to make remote teamwork work well. Open up your mind and brainstorm.
Overcome your fear of change
Don't be afraid of the future, because it appears that we're all going to work remotely or virtually in one way or another for the rest of our careers. Information is key to overcoming fear; if you'd like more ideas on how to transition into a virtual insurance agency, check out one of my books, I've got a couple on operating in the COVID environment that you can download right here on the website. Contact us, we'd love to speak to you personally, and brainstorm with you about how your agency can be more profitable, more effective and grow faster in this new environment.
3 minute read